Classic Blackjack Gold - Play Online Blackjack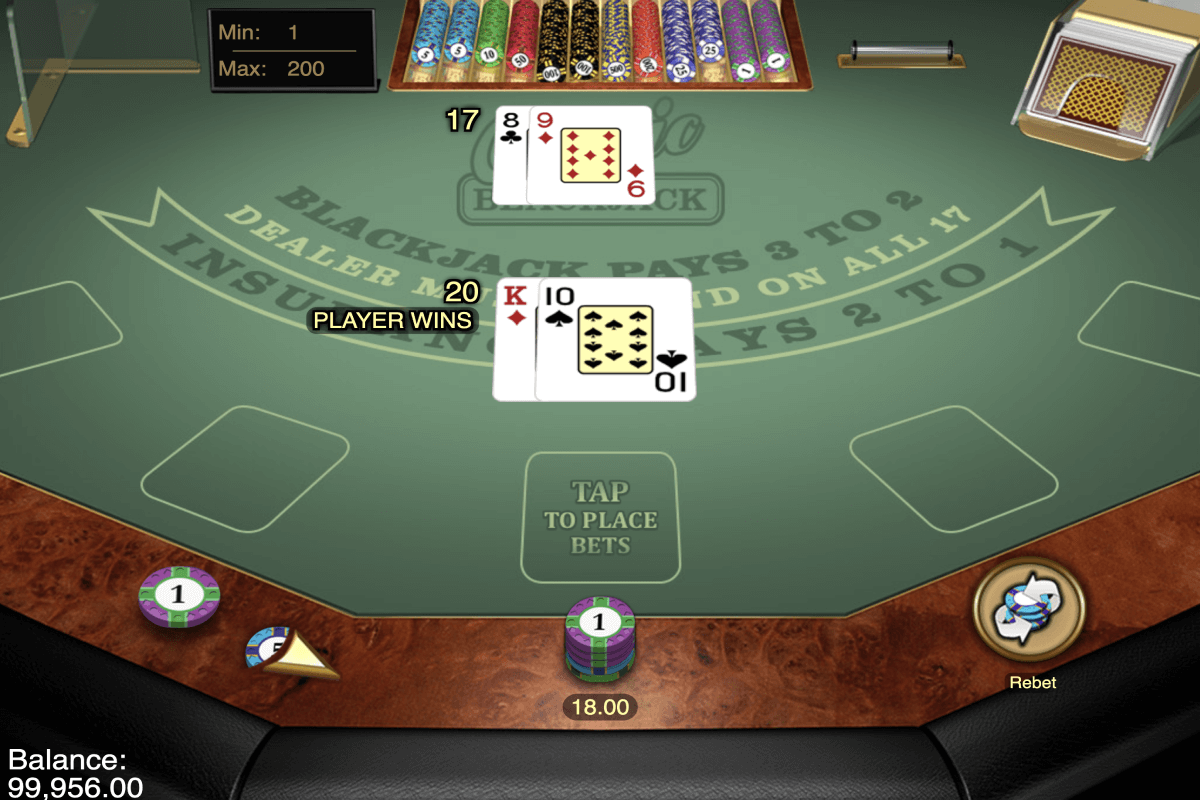 Classic Blackjack Gold Review & Experience
The gambling industry is filled with dozens of Blackjack games from various providers. But there are several titles that every blackjack fan should try, and Classic Blackjack Gold is one of them. It provides players with nice chances of winning and, which is also very significant, allows them to fully enjoy the gaming process. So, let's look at this release in more detail.
Tech Info
Classic Blackjack Gold is developed by Microgaming. This name is definitely familiar to those involved in the world of casino games — it is one of the most renowned providers. The game was released in October 2013. The betting range is the following: the smallest is one Australian dollar while the largest equals 200 Australian dollars.
The game's RTP is estimated as 99.90% which is considered to be a rather relevant figure, one of the largest compared to other games in online casinos.
Classic Blackjack Gold is played with one deck of cards (52 of them), which are randomly shuffled before every game. The aim of it is as follows: you should beat the dealer's hand value by getting a number of points close to 21.
Before we proceed, it's necessary to mention what is meant under the Gold series of games by Microgaming. The matter is that in it, the developers provide the gamblers with richer graphics which is incomparable indeed and creates a feeling of presence in the real casino. The cards' back in these games are gold, which is a significant difference.
Game Features
There are some special features in the game that will make the gameplay more attractive and beneficial for you. So, let's see what they are about.
The first one to mention is the Double Down. Using it, you get the opportunity to double the bet within your first cards' dealing. It means that in case you have made a $50 bet, you can use this option which will provide you with the win of $200 in the end. Doesn't it sound cool? By the way, Doubling is possible only with the hands to the value of 9, 10, or 11. When you feel it's the right time to use this option, just click on the according button. In case you have Split, you can't use this one.
Split is another option you can take advantage of. In case you get a hand of two sevens or two eights, you have a chance to split for making two hands. An extra bet which is worth the same as the first one will be placed on the second hand. However, a hand can be split only once. Then, there's another special feature named Insurance. This can save you a deal and you can apply it when the dealer's first card is Ace. When you see such an option offered, you have to click "Yes" and you are going to get a payout valued at 2:1 if the dealer has a Blackjack. But in case he doesn't you will lose in the round.. This special feature cannot be used for the second hands on such bets as Double Down and Split.
If everything seems too complicated for you, you are free to try a practice mode (demo). You can proceed to read the Game Rules just by clicking the following button on the blackjack table (in the upper left corner).
Game Plot
The rules of Classic Blackjack Gold stay the same as in the original version of Blackjack. Within a playing process, the participants can place a wager on a single hand, or across up to five hands.
The great thing about this game is that when you play it you will have a feeling that you are in a land-based casino. This amazing effect is created by the built-in sound of other players' talks and the classic music playing around. This is what is appreciated by the players so much and draws their attention to the game on a daily basis. Besides, this game can boast a user-friendly interface as long as everything is made for the players' convenience. There's nothing hard in identifying the main buttons and clarifying their aims.
Classic Blackjack Gold is an improved version of the game regarding the speed of the play. The blackjack table can be observed by you from the front which is very handy. The specially designed statistics section allows you to take notes of your skills' improvements after every session.
Besides, you can use the Quick Deal option to speed up the process of card dealing and turn off the background sounds if you wish.
Conclusion
If you still hesitate whether to try this game or not, why not give it a chance? Classic Blackjack Gold is one of the brightest solutions provided by Microgaming. So, we highly recommend you try this game.
Play Classic Blackjack Gold in Casino for Real Money
Advertising Disclaimer
Online Casino AU is an independent review service that aims to provide you with a detailed examination of leading gambling sites. Featured sites are led by our partners who contribute to our business, so Online Casino AU gets its income through the commissions. Users are not charged by Online Casino AU. Commissions that we receive for marketing brands do not affect the gaming experience of a User. However, Online Casino AU provides only unbiased reviews, all sites selected meet our rigorous standard for professionalism.