Immortal Romance - Play Online Pokies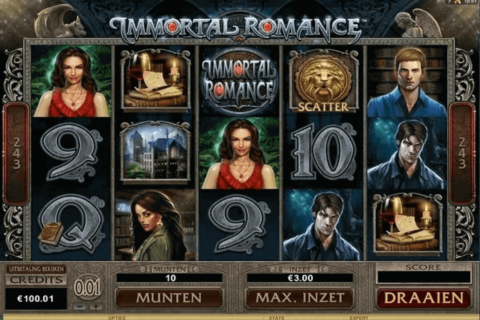 Immortal Romance Slot Review & Experience
Immortal Romance Slot Review
Immortal Romance is a well-loved video pokie game made by Microgaming, a top software provider for online casinos. This game has a vampire theme and lets players win big through its bonus features and special symbols. It can be found at many online casinos and is famous for its impressive graphics and thrilling gameplay.
Attention!
Due to the laws in Australia, Microgaming games are no longer available at online casinos operating in the country.
With a touch of sci-fi, mystery, and everything in between, the virtual Immortal romance slot machine will bring you hours of fun. We'll dive deeper into the slot's theme, gameplay, rules, symbols, and everything else you need to know. By the end of the page, you'll have all the details and be ready to explore the thrilling world of mystical creatures.
Immortal Romance Slot Details
Immortal Romance has been present in the gambling market for over a decade. It was released in 2011, to be exact. But, it still is one of the most popular games many players keep choosing over and over again.
The game was created by Microgaming, one of the best software developers. The company designed hundreds of slots and live casino games. All the games can be played on mobile devices, and the selection is impressive. Immortal Romance slot is one of the company's most popular ones.
Immortal Romance Theme
Immortal Romance Slot takes you to the world of mystical creatures – vampires. In times when this pokie was released, the vampire theme was pretty popular. The movies like Twilight and TV shows like Vampire Diaries and True Blood took the world by storm.
Years later, vampires remain a pretty popular theme. Even though many games have the same theme, the Immortal Romance slot is better than most. Microgaming did an excellent job telling a story of love, mystery, and intrigue.
Meet the Immortal Romance Characters
Immortal Romance brings a true vampire love story. It is a dark tale that introduces four unique paranormal characters, and those are:
Michael – A 800-year old vampire who falls for Sarah
Sarah – The game heroine, a scientist, and a human
Troy – A 200-year-old vampire and a playboy
Amber – A witch and Sarah's best friend
You can learn more about each character by going to the pay table and reading their stories.
If you've ever watched a vampire movie or TV show or read a vampire-themed book, you'll agree that each character gives a unique touch to the game. There're two vampires, a human and a witch. And the dark tale of love starts to unravel the moment a hundred-year-old vampire falls in love with a human.
Slot Basics
Immortal Romance slot game comes with 5 reels and 243 pay lines. There's an Autoplay feature with an option to choose whether you want 10 or 25 auto spins. When playing the game for real money, the minimum bet is 0.30, and the maximum bet is 30. The max win is 12,000 x times your bet.
RTP and Volatility
Immortal Romance online slot comes with 96.68 % RTP.
It is a highly volatile game. When the volatility is high, it means you'll win less frequently, but you'll win big. When it's low, it means you will win more often, but in smaller amounts.
Graphics and Sound
As we mentioned, the Immortal Romance slot game was released over a decade ago. When those who never played the game see that information, they may think the pokie comes with low-quality graphics, but hold your breath here. That's far from the truth!
The slot game has stunning visuals. In addition, the animations are fantastic as well. When you start playing it, there's another thing you will love – the haunting soundtrack. But, if you think that's the end, wait a bit longer. The game is packed with features, and each feature has its soundtrack.
Again, Microgaming did an excellent job. This software provider always creates stunning games, and this online slot proves the point.
How to Play Immortal Romance
If you are ready to step into the world of vampires, witches, magic, and the paranormal, be sure you will have a great time! The slot game has pretty simple rules, and you start rolling reels even if you have never played any slot machine before.
The Immortal Romance free play and real money option have the same rules. Here's how to play the game:
First, you need to set the bet value, and you can do that by clicking or tapping on the +/-
You can click on the bet max button if you want to set the maximum bet immediately.
Click the Spin button and start playing Immortal Romance slot machine!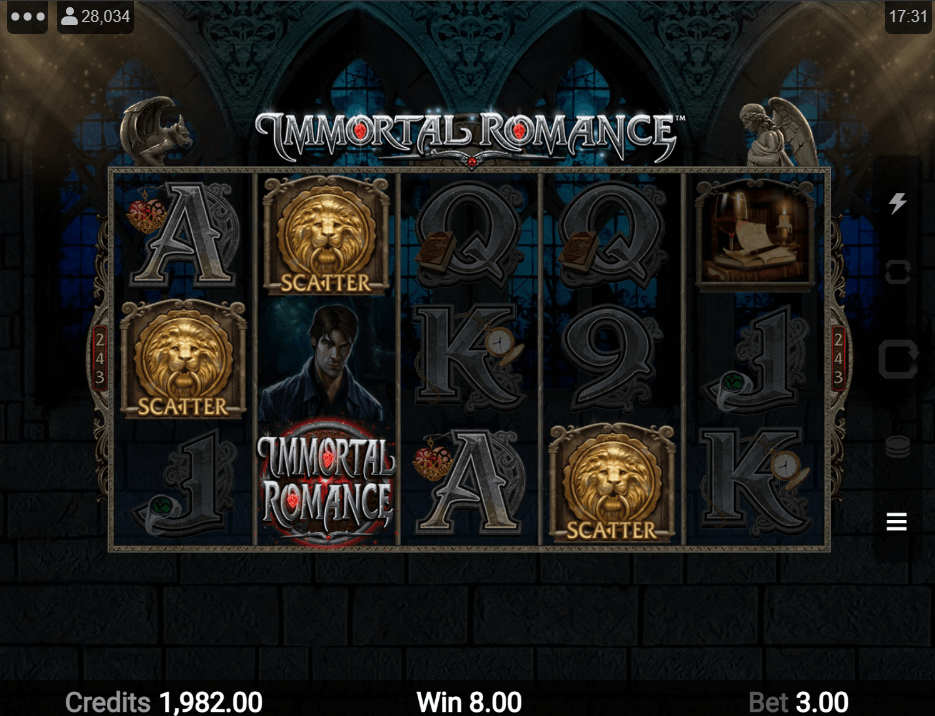 That's how simple it is. As we said earlier, there's an Autoplay feature that you can find helpful. Once you enable it, you won't have to click on the Spin button every time one turn is over. Instead, the reels will spin automatically. In addition, you can choose the number of automatic spins. The options are 10 and 25.
Symbols and Payouts
The game comes with various symbols. You've met four main characters: two vampires, Michael and Troy, a witch called Amber, and the leading heroine, a human named Sarah.
Other symbols are 9,10, J, Q, K, and A. There are also a spellbook and a haunted castle. In addition, Immortal Romance features a wild symbol that shows up as the pokie's logo. The scatter symbol in the game is presented with an impressive lion-head door knocker.
Before playing the Immortal Romance online slot, check out the list below. It features all the symbols in the game and their payouts.
The sum you'll get varies and depends on how many specific symbols you've landed. As you may guess, the options are 3,4 and 5. The more symbols you land, the higher the payout.
| Symbols | No. of symbols | Payout |
| --- | --- | --- |
| 9 & 10 | 3 | 0.17 the stake |
| Jack and Queen | 3 | 0.23 the stake |
| King & Ace | 3 | 0.33 the stake |
| Spellbook | 3 | 0.5 the stake |
| Haunted castle | 3 | 0.5 the stake |
| Amber the Witch | 3 | 0.67 the stake |
| Troy | 3 | 0.67 the stake |
| Michael | 3 | 1 the stake |
| Sarah | 3 | 1 the stake |
| Wild (Immortal Romance logo) | 3 | 3.33 the stake |
| Scatter (Lion Head Knocker) | 2 | 1 the stake |
At first glance, all these symbols seem like a lot to memorize. But give yourself some time to get familiar with it all. You will learn the details as you play Immortal romance slot machine.
Immortal Romance Bonus Features
One of the best things about the Immortal Romance slot is that the game is packed with bonus features. There are many things to look forward to. The cool thing is the thrill these bonuses bring can be felt even in the free play mode. Without further ado, let's explore how you can get bonus spins.
Wild Desire Feature
Let's start with Wild Desire. This feature will show up randomly, but once it does, the party begins. It's because it can make up to five reels wild. The free spins can't be activated when this feature is in action.
The Chamber of Spins
Once you land three or more scatter symbols in the form of lion-head door knockers, the Chamber of Spins feature will become active. By getting five scatters, the payout will be 200 x the stake, which is pretty generous. But that's not all. Bonus spins are coming your way as well.
Amber feature brings you a bonus game of five free spins. There's a 5x multiplier. As the free spins feature can be reactivated, you can get 20 free spins in total.
Troy feature delivers 15 free spins that come with the vampire bats feature. When that happens, symbols will turn into 2 and 3x multipliers.
Michael feature comes with 20 free spins and rolling reels.
Sarah feature offers the highest number of free spins, 25 of them to be exact, along with the wild vine feature that randomly switches symbols into wilds.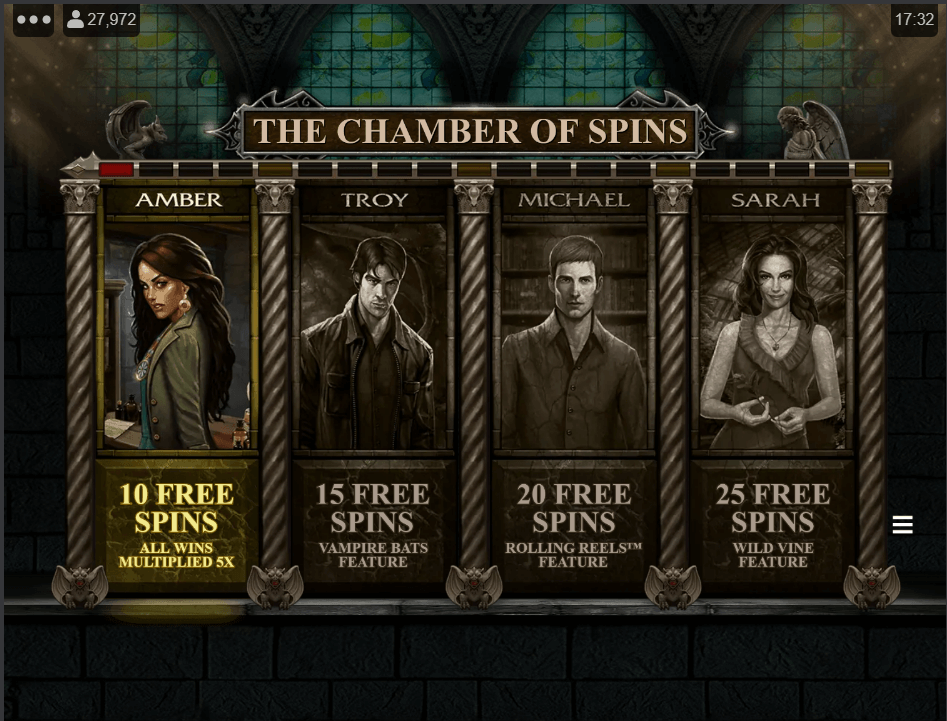 With all these bonus games, the entire experience remains entertaining for hours, even in the free-play mode.
Play Immortal Romance on a Mobile Device
You can play the Immortal Romance slot on your PC, but you can also play it on the go. All Microgaming titles are optimized for mobile devices, which means you can access them from your smartphone or tablet.
The Immortal Romance on Android and iOS
No matter if you have an Android or iOS device, the game's mobile version is about to impress you. Like the desktop, it has fantastic visuals and sound and is packed with the same features, including bonus rounds, free spins rounds, and more.
The performance of the game is fantastic. The immortal Romance slot loads quickly. Like many other free games, this one doesn't require powerful hardware, which means you can play it from any place and on any mobile device.
Immortal Romance Pros and Cons
Immortal Romance has been one of the most popular slots for years. Even though the game has many fantastic sides, it has a few drawbacks. Fortunately, its advantages outweigh the cons.
Conclusion
In the world of slots, Immortal Romance has a special place. Developed and released over a decade ago, this pokie is still one of the favourites for so many players. That trend will continue.
The slot pulls you into the mesmerizing story about vampires and other mystical creatures. If you are into paranormal, you will find Immortal Romance game hard to resist. It has everything an excellent vampire game needs to have.
In most online casinos, the free spins for this particular game come along with the welcome bonus. With an attractive welcome bonus, the best online casinos attract new customers, and many visitors are gamblers who love Immortal Romance slot. Seeing it as part of the bonus offer, the casino increases the chances of getting more players.
But, if you don't have any experience playing slots or want to check the game's pace without spending your money, you can play it for free. The free demo version comes with the same symbols, features, and bonuses. You'll see vampire bats, a wild vine feature, and activate free spins multiple times.
Now that you have all the essentials about one of the titles that took the online gaming world by storm, it's time to enjoy Immortal Romance game and experience all it has to offer!
FAQ
Can I Play Immortal Romance for free?
Yes! This popular pokie is available in demo mode. You can play it without spending and risking your money. At the same time, you can feel the game and its pace and learn the rules.
Does Immortal Romance have bonus features?
Yes, it does. One of the reasons players love this pokie is because of its bonus features. They make everything even more enjoyable.
Can I Play Immortal Romance on my Mobile Device?
Yes, you can. The game is mobile-friendly. You can play it on your Android or iOS device and enjoy its features and bonus games.
What is RTP in the game?
The RTP in Immortal Romance is 96.68 %. It is a game with high volatility.
What is the Maximum Win for One Spin?
The maximum win for a single spin in the Immortal Romance slot is 12,000 the stake. When you play for real money, the min bet is 0.30, and the max bet is 30.
Play Immortal Romance in Casino for Real Money
Advertising Disclaimer
Online Casino AU is an independent review service that aims to provide you with a detailed examination of leading gambling sites. Featured sites are led by our partners who contribute to our business, so Online Casino AU gets its income through the commissions. Users are not charged by Online Casino AU. Commissions that we receive for marketing brands do not affect the gaming experience of a User. However, Online Casino AU provides only unbiased reviews, all sites selected meet our rigorous standard for professionalism.