Fiery Sevens - Play Online Pokies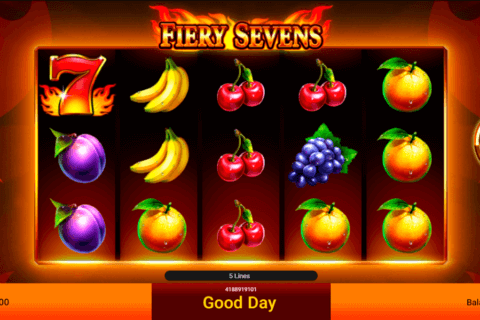 Fiery Sevens Slot Review & Experience
Demo Version Of Fiery Sevens Slot and Complete List of Features And Symbols
Here we have one interesting slot machine game. It comes from Spade Gaming, a software provider some players will know all about and some won't. It is actually one of more commonly known brands in Asia and later you will see why. The name of the slot is Fiery Sevens and it is an appealing game and the one you may want to consider. Here you can check out the complete review of Fiery Sevens and you can play fiery sevens slot in demo mode.
Fiery Sevens Slot: Basics
The game is one of spadegaming games you can play these days at most online casinos easily. It was released on 16.02.2022 and it is a video slot in type. The game developer used 5 reels and 5 paylines layout which is common and the most popular option actually.
Players can place a bet between 0.50 and 500 range. The max win is 1000 times the stake. Fiery Seven slot is a medium volatility game with RTP or 97.04% whcih is high. In simple terms, the game should pay out more and maximum bet should be able to give you a massive winning.
Theme of The Game
The theme of Fiery Sevens slot is simple. It is a fruit machine game. These games were extremely common in Las Vegas and all over the world in the 80s. Some slot machine games like Fiery seven will use the same theme.
Here you have reels placed on the animated background and you can see that all symbols and reels are animated and come with small but interesting effects. This makes all casino games better and more appealing. We must add that animations and effects have a huge role in the Fiery Sevens game and they are especially appealing after you win. There is a massive effect after each winning combination.
Symbols Of The Slot Machine Game
As you can assume, the symbols of Fiery sevens are fruits. You can see bananas, cherries, plums, watermelon, grape and orange. But, you can also see lucky 7 symbol and jackpot symbol. Keep in mind that a welcome bonus spins on this game and deposit bonuses are going to be common so you may want to practice and understand these symbols even more.
Fiery Sevens Exclusive
The jackpot symbol is an interesting one. If you get 3 or more on the paylines you can win one of three available jackpots (mini, major or grand). The multipliers here are between 17 times and 777 times the stake. Max win can get high.
Jackpot Game
Jackpot game is another, interesting feature here. It is one of bonus features and the one you will like. You can trigger it with the minimum bet and you can still get this bonus round that makes online casinos and this online slot machine even better.
You will see 12 coins on the screen. Each one represents the winning. When all winnings are added, they will total the maximum jackpot of the game. To play fiery sevens slot in this case, just pick three of the coins and win big.
Lack of Wild And Scatter Symbols
Fiery seven doesn't come with traditional scatter symbols and wild symbols. As you were able to see it does have some advanced features but these two are not available. Don't forget that online casinos will give you free spins and perhaps some other bonus feature so you can still enjoy the slot and have fun. New bonuses and new games paired with new players is one of the things we are all aware of. It is also something we all should use. Despite the lack of free spins and scatter symbol, the user rating of the game is high.
Fiery Sevens For Mobile Gamblers
A casino bonus can become available even if you play on your smartphone. Bonus spins and bonus wins are still going to get on your account. The game here was developed in HTML5 which is mandatory these days. This also means that you can play the game on any device you like.
Here you have a demo version of Fiery sevens and you can play fiery sevens and enjoy all the free spins you can get. The game here is free and a deposit required term is not used. You can also check user rating and see that sevens slot is popular thanks to big wins, redeemable amount, free spins (from online casino) and overall gameplay.
How To Place Your First Bet On Fiery Sevens
Before you even start to worry about payouts, graphics and real money gambling you will need to know how to place the bet. On our website you can do it for free. Just follow these steps.
Load the game

Click to confirm the welcome screen

Adjust the size of the wager

Click spin
On mobile and on the website here you can use autoplay mode. You can choose between 10 and unlimited spins and the reels will do their job. At a casino where you will play for real money you can use the same feature. All you win will be added to your balance. This is the same with most other and different games you can play at our website or at a casino.
How to play Fiery Sevens SLot For Free

We don't tolerate underage gambling and our website is for people who can legally gamble and play for real money or enjoy gambling completely. If you are one of them, you can enjoy the game without any download on your mobile phone for fun. As a matter of fact you can win virtual coins and spin the reels as many times as you like. Play other games as well and win virtual prizes for fun. Once you are ready, you can move to casinos and play for real money and use bonuses and enjoy payout. Fill the account with details before you start.

Who Should Play Fiery Sevens

Fiery sevens slot is ideal for certain players who are actually the most common gamblers these days. If you are one of those who want to enjoy a simple game but be able to win a lot and also like gambling at casinos with the deposit bonuses and more, spin the reels of Fiery sevens slot. You will like it. Max redeemable amount can be missives.

Due to modern design and animations the game looks great on a smartphone so mobile gamblers will like this as well. It is one of the best games most players have played on their Android or iOS device.

Play Fiery Sevens Slot At Online Casinos

If you want to play and win you will have to move to online casinos and the playing field here becomes even better. The deposit required is mandatory but it will give you bonuses and make playing the game even better. Gambling is addictive so make sure you play responsibly all the time and try to play more for fun.
Spade Gaming Software Developer
Spade gaming is a software developer from Asia. They are located in the Philippines, but they do have offices all around Asia. They are present in China, Malaysia, Indonesia, Thailand and more. Playing their games is always fun and most players will have a great time enjoying their titles thanks to originality and simplicity.
The software developer here is not some small and unknown brand. They have over 100 different games. You can frequently get a bonus or two for their games at a casino and spin the reel and enjoy gambling.
Fiery Sevens Slot: Verdict
Yes, you should play fiery sevens game and you will have a lot of fun. The game is special and doesn't follow the rules most other games do. It is different and special. Playing here would be great if you like simpel slots that offer massive jackpots and regular winnings. Be free to try the game here in demo mode and then move to the casino where you can get bonus and play and win.
Fiery Sevens Slot FAQ
Can i play Fiery sevens for free?
Yes you can play the game for free right here and you can enjoy it as much as you like. There is no need to worry about casinos, playing field or anything similar.
Is the game safe?
The game is developed by a reputable software brand hence it is safe and fair to play and enjoy.
Are free spins available?
The game doesn't offer free spins but your casino will offer you this bonus and you should use it. A deposit bonus can be very appealing in this case scenario.