European Roulette - Play Online Roulette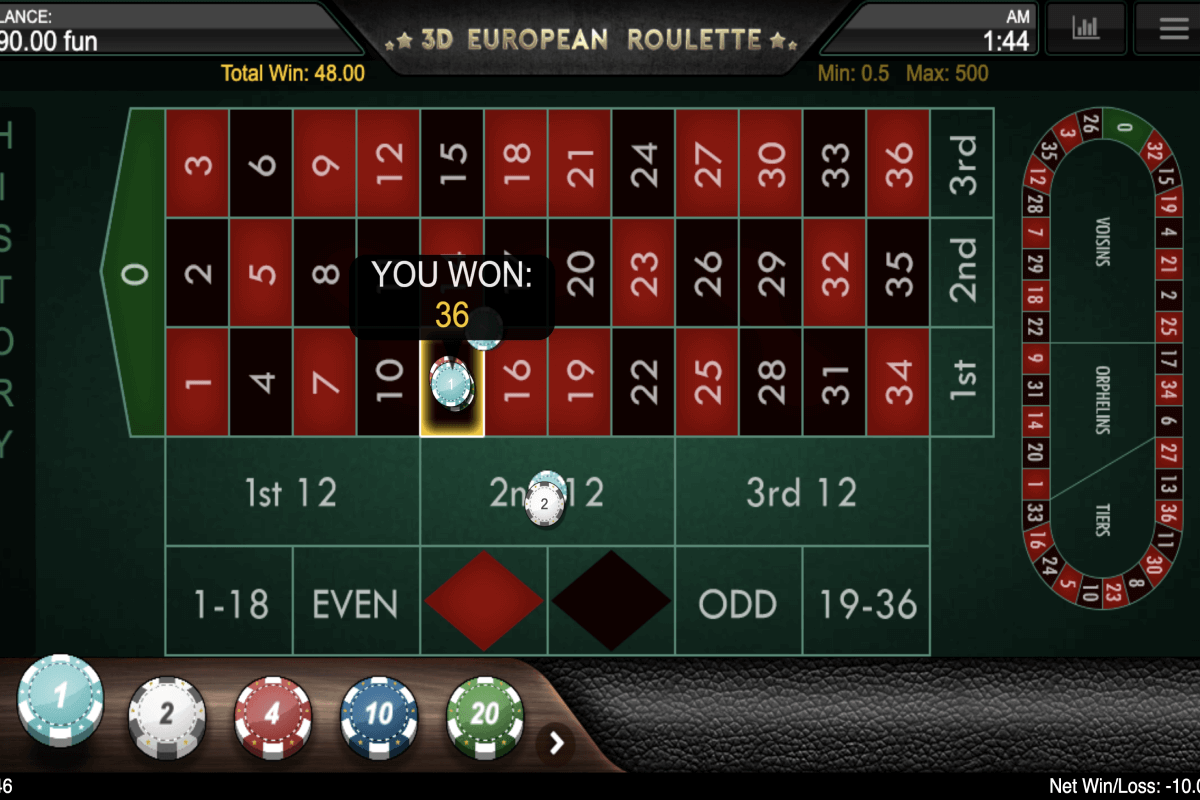 European Roulette Review & Experience
1X2gaming studio has released a few popular roulette games but their European Roulette is considered their hallmark. This game is filled with a lot of interesting features, and players will definitely appreciate its attractive interface, betting history, and other options. In this European Roulette by 1X2gaming review, we will look at this game in more detail.
Tech Info
European Roulette is a highly popular game developed by 1X2gaming. This game is based on the classic variation and comes with only a single zero wheel. Also, there are numbers from 1 to 36 that are alternately colored red and black. This version includes a lot of customizable options, so players are able to adjust the game to their taste. The game is available on different devices, so players are able to enjoy it even on the go.
European roulette is considered a quite rewarding variation because it comes with a single zero pocket. While the American version has an RTP of 94,74%, this game boasts a return to player of 97.30%, which is a much more attractive offer. So, if you want to get better winnings, this European Roulette by 1X2gaming is a perfect option. As for the betting limits, you will not be disappointed here either. The game is suitable for all players, as it offers bets from 0.25 Australian dollars to 200 Australian dollars.
This game offers users a lot of freedom of action. They can bet on a variety of outcomes: single bets, street, dozen, black or red, and many others. The payouts are standard: if you bet on red/black, you will get a payout of 2/1, while betting on zero can bring you a decent winning of 35/1.
European roulette comes with a history of outcomes and a statistics section. You will be able to see the outcomes of 200 previous rounds, which will provide you with the general picture. This function will be very useful if you use one of the strategies.
Game Features
European Roulette by 1X2gaming boasts a lot of features that make the gameplay more convenient. For example, the game has a great roulette table: when you hover the desired bet, you will see all the numbers included in it. Also, the game offers a racetrack view that can be more convenient for some players. It allows placing multiple chips in different areas of the roulette wheel easily. For example, you can choose 5 numbers in a straight, and this bet will place chips on every number.
Another feature of this roulette is the La Partage rule that will make the gameplay even more profitable. If you make outside bets and the outcome of the round is zero, you will get back half of the wagered amount.
Playing European Roulette, you can be sure of the fairness of outcomes. As in other casino games, a random number generator is used to determine the results of the rounds. This ensures that all results are 100% fair and the casino cannot affect them in any way.
Game Plot
European Roulette from 1X2gaming has an incredibly attractive interface and provides a large number of options. The visual effects are exciting but also simple at the same time. All animations are smooth and create great impressions.
There are several betting modes available to players: you can place your bets on the classic table or use the racetrack to simplify the process. On the left side, there is the history of the previous rounds, and at the bottom, there are buttons for selecting the amount and starting the round.
For new players, there is a section with a paytable and rules of the game. If you want to better understand all the rules — click on the Settings button and select the appropriate tab. Besides, there are other options: you can choose the history of your bets and adjust the game in accordance with your preferences.
What is more, this European Roulette is available in demo mode. This means that you have an opportunity to enjoy the gameplay of the game absolutely for free, and even no registration is required. With Online Casino AU, you will get exciting emotions and will be able to improve a strategy without risking real money.
Conclusion
European Roulette is an incredible release from 1X2gaming. This game offers very attractive visuals and accurately reflects the atmosphere of the real casino. As you spin the wheel, you'll see images from multiple cameras, which makes the process even more fun. The game is great for both new players and professionals, as there are bets available from 0.25 to 200 coins per round. Importantly, there is a demo version of European Roulette, so every player has an opportunity to try the game for free in Online Casino AU.