Pirate 21 Blackjack - Play Online Blackjack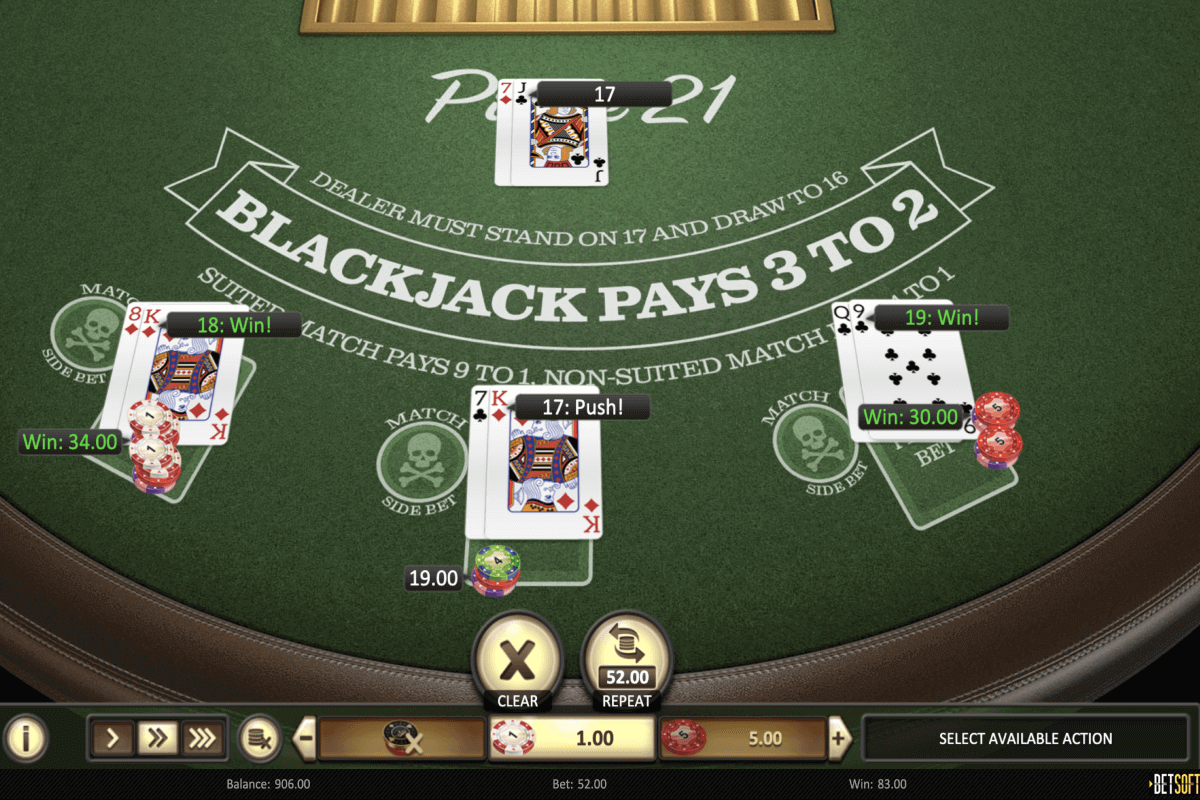 Pirate 21 Blackjack Review & Experience
There are several unusual varieties of blackjack in the list of gambling options produced by Betsoft Gaming. In this article, we offer you to get acquainted with Pirate 21 Blackjack, which is an original variation of the "Spanish 21". This game will provide you with interesting gameplay as well as decent winning opportunities. In this review, we will tell you about all the features of Pirate 21 Blackjack.
Tech Info
Pirate 21 Blackjack is an unusual online blackjack game that was developed by Betsoft Gaming. This developer is one of the most renowned casino games suppliers. This title is played without the card number 10. This makes the gameplay more complex because it becomes much harder to collect 21 points. To allure players to play the game but not frighten them, favorable rules and preferential payments are offered to a player. Jokers are not used in Pirate 21 Blackjack. All cards are shuffled before any deal.
The aim of the game is to win a dealer by getting more points than he has, but, at the same time, twenty-one points cannot be exceeded. This way, if you exceed 21 points, you will lose the bet. Players can also get paid in some additional ways.
Pirate 21 Blackjack boasts a quite low house edge of less than 1%, and this is why this game is a great choice for players who want to earn money. While playing, you will have a lot of opportunities to get nice winnings.
Online casinos offer to play Pirate 21 Blackjack on one, two, or three hands simultaneously. The betting amount ranges from 1 to 100 credits, which means the total bet of 300 credits if you play on 3 hands. And if you win, you can double the bet amount. In addition, after the first two cards are dealt, you can double your bet if you are confident of winning.
Pirate 21 Blackjack has several buttons on the control panel, which allow managing the player's actions during the game session. The arrows located above the chips for picking the denomination of game chips make it possible to choose the desired betting amount. Also, there is a detailed section with a paytable and rules of the game. There you will find out info about combinations, how to make bets, and other tips that will make the gaming process more profitable.
Game Features
The main feature of the 21 Pirate Blackjack is that there is no card number 10. Thus, it becomes more difficult for players to collect 21 points and players have to rely on their luck and skills.
An ordinary winning boxing is paid 1:1, while for blackjack, 3:2 is calculated. In addition to the main bet, Pirate 21 Blackjack allows you to place a side bet on the Match Side Bet. The option is activated only in case of making the main bet. The Match Side Bet wins if the denomination of one of the player's cards received from the deal matches the face value of the dealer's open card.
Pirate 21 Blackjack Bonus Games
Pirate 21 Blackjack has a well-developed system of bonus payments for certain card combinations that looks like this:
Twenty-one on five cards – 3:2;
Twenty-one on six cards – 2:1;
Twenty-one on seven or more cards – 3:1;
6-7-8 or 7-7-7 of any suit – 3:2;
6-7-8 or 7-7-7 of the same suit – 2:1;
6-7-8 or 7-7-7 of spades – 3:1.
Please make a note that after the double, bonus payments for 6-7-8 or 7-7-7 are not valid. Thanks to the improved payout system, players can come up with more profitable strategies that will help them earn more money.
Game Plot
Players find themselves in a casino's room sitting at a game table. From first sight, the game hardly differs from other Blackjack titles. The game table with players' cards, chips, decks, and the dealer's position is shown on the screen. The gameplay is fast-paced, and players can start new rounds every few seconds.
The graphics in Pirate 21 Blackjack are pretty simple. During the gameplay, you can see several animations and effects. Cards rustling when dealing is imitated. An unobtrusive melody plays in the background, plunging players into the atmosphere of a real casino. Other actions are accompanied by characteristic sounds. It is possible to turn sound on and off.
Conclusion
Pirate 21 Blackjack is very similar to Spanish blackjack and its variation "Spanish 21", although it has its own nuances regarding the additional bet and bonus payments. In general, if you like the original versions of blackjack, this option will also appeal to you. The game interface is convenient and the graphics are nice. In addition, there is a demo version of the game, so you will be able to enjoy it absolutely for free.
Play Pirate 21 Blackjack in Casino for Real Money
Advertising Disclaimer
Online Casino AU is an independent review service that aims to provide you with a detailed examination of leading gambling sites. Featured sites are led by our partners who contribute to our business, so Online Casino AU gets its income through the commissions. Users are not charged by Online Casino AU. Commissions that we receive for marketing brands do not affect the gaming experience of a User. However, Online Casino AU provides only unbiased reviews, all sites selected meet our rigorous standard for professionalism.